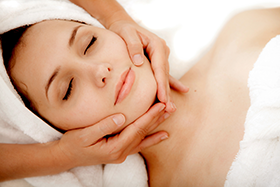 Georgetown Salon and Spa Proudly Uses Image and Murad Products
Signature Facial: $140 and Up
Our signature, four-layer, results-driven treatment combines vitamin C, hydroxy acids, and enzymes to speed up cellular renewal. New technology of Centella stem cells support sensitive skin, and botanical detoxifying and energizing complexes give noticeable results in just one session.
This facial will leave your skin super smooth and glowing! Good for most skin types and ideal before a big event.
Acne Complex® Facial: $140 and Up
Acne breakouts are complex. That's why this facial is designed to reduce acne blemishes and improve skin clarity while instantly soothing redness and inflammation.
This professional-strength acne treatment features exfoliating fruit enzymes to open clogged pores for deep cleansing and extraction without irritation. Suitable for all levels of acne severity, this powerhouse acne treatment is also available to help control breakouts on the back and décolleté.
Firming Eye Mask (Add to Any Treatment): $20 and Up
Restorative treatment firms the delicate eye area by 48% in a single treatment. Soothes and refreshes to awaken the eye area while plumping to reduce the appearance of fine lines and wrinkles. May be added to any facial.
A facial for your back! We treat this hard-to-reach area just like we would a facial. Deep cleansing with a relaxing massage, we can target breakouts, blockages, pigmentation, rough skin, and more.
These professional-grade peels are designed for a variety of skin types and conditions. We recommend a consultation before a treatment (except Ormedic peel) to patch test and discuss the best treatment options and plans for you.
For best results, a series of 4-6 peels at 2-4 week intervals is suggested. All peels include take-home products for use after the peel worth $32 and Up.
• Unbalanced • Teen • Sensitive
A blend of pumpkin, pineapple, papaya, and mango fruit enzymes and peptides in an organic aloe vera gel base, this non-chemical peel rebalances, regenerates, and restores skin while comfrey plant-derived stem cell technology recharge your skin's stem cells helping to maintain the youthfulness of skin.
Ideal for pregnant or breastfeeding clients.
• Pigmentation • Photo Damage • Sun Spots • Post Inflammatory Hyperpigmentation
Uneven complexions have met their match. This results-driven treatment contains 30% lactic acid blended with kojic acid and a cocktail of effective botanical brighteners, echinacea plant-derived stem cells, and anti-aging peptides to reduce all forms of pigmentation.
• Aging • Fine Lines and Wrinkles • Rough Skin • Photo Aging
This ultra-resurfacing blend of 30% glycolic acid and retinol visibly reduces the appearance of fine lines and wrinkles, leaving skin firm and revitalized. Buddleja stem cells reduce inflammation and diminish photo-aging, botanical coffee and peppermint energize, while eucalyptus and ylang-ylang purify the skin.
• Oily • Acne Grades I-II • Acne-Prone • Rough Skin
A potent blend of 30% alpha and beta hydroxy acids blended with lilac plant-derived stem cells to reduce blemishes, redness, and diminish post-breakout dark spots. Detoxifying ylang-ylang and eucalyptus purify oily skin and help to effectively treat and heal acne blemishes.
• Acne Grades III-IV • Oily • Acne-Prone • Wrinkles
This powerful non-blended beta hydroxy acid treatment quickly and effectively targets and improves grades III and IV acne.
• Advanced Aging • Advanced Acne • Advanced Pigmentation, All Fitzpatrick Skin Types
This distinct blend of active exfoliants works synergistically to visibly reduce the appearance of fine lines, correct uneven skin tone, smooth rough texture, and reduce acne blemishes. A modified Jessner's.
Extra Strength Peels Lightening Lift® FORTE Peel
• Pigmentation • Photo Damage • Sun/Dark Spots • Melasma
For more advanced pigmentation symptoms, this extra-strength peel option contains the same innovative botanicals, skin brighteners, and tyrosinase inhibitors as our original Lightening lift but is formulated with 50% lactic acid for a boost of added exfoliating, lightening, and brightening power.
• Aging • Fine Lines • Wrinkles
For more advanced signs of aging, including deeper wrinkles and loss of elasticity. This contains the same innovative ingredients as our original wrinkle lift, but formulated with 45% glycolic acid and retinol for a boost of added exfoliation, coupled with an innovative blend of firming and anti-aging properties.
Perfection Lift™ FORTE Peel
• Advanced Aging • Advanced Acne • Advanced Pigmentation
This concentrated blend of active exfoliants, lactic acid, salicylic acid, and resorcinol work synergistically to quickly and effectively reduce the appearance of advanced aging, pigmentation, and acne. A modified Jessner's.